The Narcissist and His Family
Frequently Asked Questions # 22
At first, the narcissist treats newborn siblings and children as competitors for scarce narcissistic supply.
Gradually, though, he converts some of them into sources of attention and adulation (at this phase, incest is a distinct danger)
As they grow up and become more discerning, judgmental, and critical, the narcissist regains his erstwhile hostility towards his offspring.
Read more and buy the book(s)
By: Dr. Sam Vaknin
Click HERE to view the video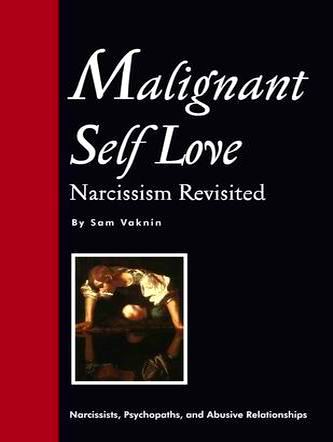 Malignant Self Love - Buy the Book - Click HERE!!!
Relationships with Abusive Narcissists - Buy the e-Books - Click HERE!!!
---
READ THIS: Scroll down to review a complete list of the articles - Click on the blue-coloured text!
Bookmark this Page - and SHARE IT with Others!
---
---
Is there a "typical" relationship between the narcissist and his family?
Answer:
We are all members of a few families in our lifetime: the one that we are born to and the one(s) that we create. We all transfer hurts, attitudes, fears, hopes and desires – a whole emotional baggage – from the former to the latter. The narcissist is no exception.
The narcissist has a dichotomous view of humanity: humans are either Sources of Narcissistic Supply (and, then, idealised and over-valued) or do not fulfil this function (and, therefore, are valueless, devalued). The narcissist gets all the love that he needs from himself. From the outside he needs approval, affirmation, admiration, adoration, attention – in other words, externalised Ego boundary functions.
He does not require – nor does he seek – his parents' or his siblings' love, or to be loved by his children. He casts them as the audience in the theatre of his inflated grandiosity. He wishes to impress them, shock them, threaten them, infuse them with awe, inspire them, attract their attention, subjugate them, or manipulate them.
He emulates and simulates an entire range of emotions and employs every means to achieve these effects. He lies (narcissists are pathological liars – their very self is a false one). He acts the pitiful, or, its opposite, the resilient and reliable. He stuns and shines with outstanding intellectual, or physical capacities and achievements, or behavior patterns appreciated by the members of the family. When confronted with (younger) siblings or with his own children, the narcissist is likely to go through three phases:
At first, he perceives his offspring or siblings as a threat to his Narcissistic Supply, such as the attention of his spouse, or mother, as the case may be. They intrude on his turf and invade the Pathological Narcissistic Space. The narcissist does his best to belittle them, hurt (even physically) and humiliate them and then, when these reactions prove ineffective or counter-productive, he retreats into an imaginary world of omnipotence. A period of emotional absence and detachment ensues.
His aggression having failed to elicit Narcissistic Supply, the narcissist proceeds to indulge himself in daydreaming, delusions of grandeur, planning of future coups, nostalgia and hurt (the Lost Paradise Syndrome). The narcissist reacts this way to the birth of his children or to the introduction of new foci of attention to the family cell (even to a new pet!).
Whoever the narcissist perceives to be in competition for scarce Narcissistic Supply is relegated to the role of the enemy. Where the uninhibited expression of the aggression and hostility aroused by this predicament is illegitimate or impossible – the narcissist prefers to stay away. Rather than attack his offspring or siblings, he sometimes immediately disconnects, detaches himself emotionally, becomes cold and uninterested, or directs transformed anger at his mate or at his parents (the more "legitimate" targets).
Other narcissists see the opportunity in the "mishap". They seek to manipulate their parents (or their mate) by "taking over" the newcomer. Such narcissists monopolise their siblings or their newborn children. This way, indirectly, they benefit from the attention directed at the infants. The sibling or offspring become vicarious sources of Narcissistic Supply and proxies for the narcissist.
An example: by being closely identified with his offspring, a narcissistic father secures the grateful admiration of the mother ("What an outstanding father/brother he is"). He also assumes part of or all the credit for baby's/sibling's achievements. This is a process of annexation and assimilation of the other, a strategy that the narcissist makes use of in most of his relationships.
As siblings or progeny grow older, the narcissist begins to see their potential to be edifying, reliable and satisfactory Sources of Narcissistic Supply. His attitude, then, is completely transformed. The former threats have now become promising potentials. He cultivates those whom he trusts to be the most rewarding. Often, he inculcates in them a competitive team spirit, a xenophobic we-ness, a cultish and defensive, or even paranoid stance.
He may single out one of his children and encourage the "golden" or "sunshine" child to idolise him, to adore him, to be awed by him, to admire his deeds and capabilities, to learn to blindly trust and obey him, in short to surrender to his charisma and to become submerged in his follies-de-grandeur. The remains of the litter – the chosen one's brothers and sisters - are ignored, neglected, left to fend off for themselves, or worse: relegated to the role of much-maligned, ridiculed, thwarted, stunted, and hated scapegoats (watch the video HERE).
Sometimes, the narcissistic parent uses the scapegoated offspring as a "coin" to bribe the golden child with: by humiliating and mocking the one, the parent secures the affection, bonding, and allegiance of the other. The black sheep is made to serve the golden child, to cater to his/her every need or whim, and to surrender his/her possessions and income to his/her preferred, privileged sibling.
Such discriminatory conduct emanates from the narcissistic parent's projected splitting: a confluence of two psychological defense mechanisms (projection and splitting).
Splitting is a "primitive" defense mechanism. It involves the inability to integrate contradictory qualities, behaviors, and attributes of the same object into a coherent picture. The narcissist regards people around him as either all bad or all good, irredeemably black or lustrously white, implacable foes or undying friends. Splitting results in cycles of idealization followed by devaluation.

But, splitting can also be applied to one's self. Patients with personality disorders often idealize themselves fantastically and grandiosely, only to harshly devalue, hate, and even harm themselves when they fail or are otherwise frustrated.
Projection is another psychological defense mechanism. We all have an image of how we "should be". Freud called it the "Ego Ideal". But sometimes we experience emotions and drives or have personal qualities which don't sit well with this idealized construct. Projection is when we attribute to others these unacceptable, discomfiting, and ill-fitting feelings and traits that we possess. This way we disown these discordant features and secure the right to criticize and chastise others for having or displaying them.
The narcissistic parent splits her personality into good and bad traits, qualities, and dimensions. She projects his or her good aspects, the ones she finds to be acceptable (ego-syntonic) or even desirable onto the golden child who then embodies and reifies everything that's right and proper in the parent's personality, an extension of the parent's grandiosity.
In contradistinction, the traits and qualities of himself or herself that the narcissistic parent finds bad, unacceptable, rejected, or shame-inducing are projected onto and attributed to the scapegoat child, the black sheep of the family, the reject and the outcast who is then rendered a constant reminder of the parent's shortcomings, a challenge to her fantastic self-perception and, therefore, a permanent narcissistic injury. Such emergent roles – of scapegoat and of sunshine child – persist throughout the parent's life and devolve even to the offspring of his children, to the grandkids. It becomes entrenched across generations.
It is at this stage that the risk of child abuse - from emotional incest and up to and including outright incest - is heightened. The narcissist is auto-erotic. He is the preferred object of his own sexual attraction. His siblings and his children share his genetic material. Molesting or having intercourse with them is as close as the narcissist gets to having sex with himself.
Moreover, the narcissist perceives sex in terms of annexation. The partner is "assimilated" and becomes an extension of the narcissist, a fully controlled and manipulated object. Sex, to the narcissist, is the ultimate act of depersonalization and objectification of the other. He actually masturbates with other people's bodies.
Minors pose little danger of criticizing the narcissist or confronting him. They are perfect, malleable and abundant sources of Narcissistic Supply. The narcissist derives gratification from having coital relations with adulating, physically and mentally inferior, inexperienced and dependent "bodies".
(continued below)
---
This article appears in my book, "Malignant Self-love: Narcissism Revisited"
Click HERE to buy the print edition from Amazon (click HERE to buy a copy dedicated by the author)
Click HERE to buy the print edition from Barnes and Noble
Click HERE to buy the print edition from the publisher and receive a BONUS PACK
Click HERE to buy electronic books (e-books) and video lectures (DVDs) about narcissists, psychopaths, and abuse in relationships
Click HERE to buy the ENTIRE SERIES of sixteen electronic books (e-books) about narcissists, psychopaths, and abuse in relationships
Click HERE for SPECIAL OFFER 1 and HERE for SPECIAL OFFER 2
Follow me on Twitter, Facebook (my personal page or the book's), YouTube
---
These roles – allocated to them explicitly and demandingly or implicitly and perniciously by the narcissist – are best fulfilled by ones whose mind is not yet fully formed and independent. The older the siblings or offspring, the more they become critical, even judgemental, of the narcissist. They are better able to put into context and perspective his actions, to question his motives, to anticipate his moves.
As they mature, they often refuse to continue to play the mindless pawns in his chess game. They hold grudges against him for what he has done to them in the past, when they were less capable of resistance. They can gauge his true stature, talents and achievements – which, usually, lag far behind the claims that he makes.
This brings the narcissist a full cycle back to the first phase. Again, he perceives his siblings or sons/daughters as threats. He quickly becomes disillusioned and devaluing. He loses all interest, becomes emotionally remote, absent and cold, rejects any effort to communicate with him, citing life pressures and the preciousness and scarceness of his time.
He feels burdened, cornered, besieged, suffocated, and claustrophobic. He wants to get away, to abandon his commitments to people who have become totally useless (or even damaging) to him. He does not understand why he has to support them, or to suffer their company and he believes himself to have been deliberately and ruthlessly trapped.
He rebels either passively-aggressively (by refusing to act or by intentionally sabotaging the relationships) or actively (by being overly critical, aggressive, unpleasant, verbally and psychologically abusive and so on). Slowly – to justify his acts to himself – he gets immersed in conspiracy theories with clear paranoid hues.
To his mind, the members of the family conspire against him, seek to belittle or humiliate or subordinate him, do not understand him, or stymie his growth. The narcissist usually finally gets what he wants and the family that he has created disintegrates to his great sorrow (due to the loss of the Narcissistic Space) – but also to his great relief and surprise (how could they have let go someone as unique as he?).
This is the cycle: the narcissist feels threatened by arrival of new family members – he tries to assimilate or annex of siblings or offspring – he obtains Narcissistic Supply from them – he overvalues and idealizes these newfound sources – as sources grow older and independent, they adopt anti narcissistic behaviours – the narcissist devalues them – the narcissist feels stifled and trapped – the narcissist becomes paranoid – the narcissist rebels and the family disintegrates.
This cycle characterises not only the family life of the narcissist. It is to be found in other realms of his life (his career, for instance). At work, the narcissist, initially, feels threatened (no one knows him, he is a nobody). Then, he develops a circle of admirers, cronies and friends which he "nurtures and cultivates" in order to obtain Narcissistic Supply from them. He overvalues them (to him, they are the brightest, the most loyal, with the biggest chances to climb the corporate ladder and other superlatives).
But following some anti-narcissistic behaviours on their part (a critical remark, a disagreement, a refusal, however polite) – the narcissist devalues all these previously idealized individuals. Now that they have dared oppose him - they are judged by him to be stupid, cowardly, lacking in ambition, skills and talents, common (the worst expletive in the narcissist's vocabulary), with an unspectacular career ahead of them.
The narcissist feels that he is misallocating his scarce and invaluable resources (for instance, his time). He feels besieged and suffocated. He rebels and erupts in a serious of self-defeating and self-destructive behaviours, which lead to the disintegration of his life.
Doomed to build and ruin, attach and detach, appreciate and depreciate, the narcissist is predictable in his "death wish". What sets him apart from other suicidal types is that his wish is granted to him in small, tormenting doses throughout his anguished life.
Custody and Visitation
Click HERE to Watch the Video
Presentation Paper at the 11th Annual and First International Battered Mothers Custody Conference
The narcissist regards his children as extensions of himself, mere avatars of his inner constructs, pawns in the grand chess game that is his Life, props in the theatre of his False Self (sources of narcissistic supply), potential competitors, and bargaining chips in the inevitable showdown with a hostile world as reified by his reneging, traitorous spouse. In a custody battle, all these figments of his psychodynamics need to be adroitly addressed to achieve a favourable outcome as far as the children involved are concerned.
A parent diagnosed with full-fledged Narcissistic Personality Disorder (NPD) should be denied custody and be granted only restricted rights of visitation under supervision.
Narcissists accord the same treatment to children and adults. They regard both as sources of narcissistic supply, mere instruments of gratification - idealize them at first and then devalue them in favour of alternative, safer and more subservient, sources. Such treatment is traumatic and can have long-lasting emotional effects.
The narcissist's inability to acknowledge and abide by the personal boundaries set by others puts the child at heightened risk of abuse - verbal, emotional, physical, and, often, sexual. His possessiveness and panoply of indiscriminate negative emotions - transformations of aggression, such as rage and envy - hinder his ability to act as a "good enough" parent. His propensities for reckless behaviour, substance abuse, and sexual deviance endanger the child's welfare, or even his or her life.
Disabled and Challenged Children
Click HERE to Watch the Video
The narcissist regards his disabled or challenged child as an insult, a direct challenge to his self-perceived perfection and omnipotence, a constant, nagging source of negative narcissistic supply, and the reification and embodiment of a malevolent and hostile world which tirelessly conspires to render him a victim through misfortune and catastrophe. The precarious foundations of his False Self – and, therefore, his ability to function - are undermined by this miscegenation.
Relentlessly challenged by his defective offspring's very existence and by the persistence of its attendant painful reminders, the narcissist lashes out, seeking to persecute and penalize the sources of his excruciating frustration: the child and his mother. The narcissist holds her responsible for this failure, not himself. She brought this shame and perturbation into his otherwise fantastic life. It was she who gave issue to this new fount of torment, this permanent reminder of fallibility, imperfection, mortality, impotence, guilt, disgrace, and fear.
To rectify this wrong, to restore the interrupted balance, and to firmly regain an assured sense of his grandiosity, the narcissist resort to devaluation. He humiliates, belittles, and demeans both the unfortunate child and his suffering mother. He compares their failings unfavourably to his own wholeness. He berates and mocks them for their combined disability, frailty, weakness, meekness, and resourcelessness. He transforms then into the captive butts of his unbridled sadism and the cowed adherents of a cult-like shared psychosis. Serves them well for having thus ruined his life, figures the narcissist.
Casting himself as a compassionate proponent of "tough love", the narcissist eggs his charges on mercilessly. He contrasts their slowness with his self-imputed alacrity, their limitations with his infinite grasp, their mediocrity with his genius and acuity, and their defeats with his triumphant life, real or imagined. He harps on and leverages their insecurities and he displays his hateful contempt for this mother-child dyad with a fiery vengeance whenever he is confronted, criticized, or resisted. He may even turn violent in order to enforce the discipline of his distorted worldview and delusional exegesis of reality. By reducing them, he feels elevated yet again.
Bonding and attachment in infancy are critical determinants and predictors of well-being in adulthood. A small minority of children are born with dysfunctions – such as Attention Deficit Hyperactivity Disorder or Asperger's Disorder – which prevent them from properly bonding with or attaching to the primary caregiver (mother, in most cases). Environmental factors - such as an unstable home, parental absenteeism, or a disintegrating family unit - also play a role and can lead to the emergence of Reactive Attachment Disorder (RAD). Toddlers adapt to this sterile and hostile emotional landscape by regressing to an earlier phase of unbridled, self-sufficient, and solipsistic primary narcissism. Disabled and challenged children of narcissistic parents may well end up being narcissists themselves, a sad but inescapable irony.
The Seriously Ill child and Munchausen by Proxy Syndrome
Click HERE to Watch the Video
Narcissistic parents of seriously ill children derive narcissistic supply from onlookers, friends, family, colleagues, and community by attracting attention to their role as saintly caretakers. They are demonstratively and ostentatiously patient, compassionate, suffering heroically, and dedicated to the child, its welfare, and ultimate healing. They flaunt the child's sickness as a kind of a hard-won but well-deserved medal, down in the trenches with their tortured offspring, doing desperate battle with a pitiless enemy: the disease. It is an intoxicating part in the unfolding film that is the narcissist's life.
But this irresistible craving for attention should be demarcated from the sinister affliction colloquially known as Munchausen by Proxy Syndrome.
Patients afflicted with the Factitious Disorder colloquially known as "Munchausen Syndrome" seek to attract the attention of medical personnel by feigning or by self-inflicting serious illness or injury. "Munchausen by Proxy Syndrome" (Factitious Illness or Disorder by Proxy, or Imposed by Another, or FII – Fabricated or Induced Illness by Carers) involves the patient inducing illness in or causing injury to a dependent (child, old parent) in order to gain, in her capacity as a caretaker, the attention, praise, and sympathy of medical care providers. Both syndromes are forms of shared psychosis (folie a deux or a plusieurs) and "crazy-making" with hospital staff as unwilling and unwitting participants in the drama.
Superficially, this overwhelming need for consideration by figures of authority and role models (doctors, nurses, clergy, social workers) resembles the narcissist's relentless and compulsive pursuit of narcissistic supply (which consists of attention, adulation, admiration, being feared or noted, etc.) But, there are some important differences.
To start with, the narcissist – especially the somatic variety – worships his body and cherishes his health. If anything, narcissists tend to be hypochondriacs. They are loath to self-harm and self-mutilate, let alone fake laboratory tests and consume potentially deleterious substances and medications. They are also unlikely to seriously "damage" their sources of supply (e.g., children) as long as they are compliant and adulating.
As opposed to narcissists, people with both Munchausen Syndromes desire acceptance, love, caring, relationships, and nurturing, not merely attention: theirs is an emotional need that amounts to more than the mere regulation of their sense of self-worth. They have no full-fledged False Self, only a clinging, insecure, traumatized, deceitful, and needy True Self. Munchausen Syndrome may be comorbid (can be diagnosed with) personality disorders, though and the patients are pathological liars, schizoid, paranoid, hypervigilant, and aggressive (especially when confronted.)
While narcissists are indiscriminate and "promiscuous" when it comes to their sources of narcissistic supply – anyone would do – patients with the Munchausen Syndromes derive emotional nurturance and sustenance mainly from healthcare practitioners.
---
Also read
Parenthood - The Irrational Vocation
The Genetic Underpinnings of Narcissism
---
Copyright Notice
This material is copyrighted. Free, unrestricted use is allowed on a non commercial basis.
The author's name and a link to this Website must be incorporated in any reproduction of the material for any use and by any means.
---
Excerpts from Archives of the Narcissism List
Internet: A Medium or a Message?
Write to me: palma@unet.com.mk or narcissisticabuse-owner@yahoogroups.com